Saddam Jumaily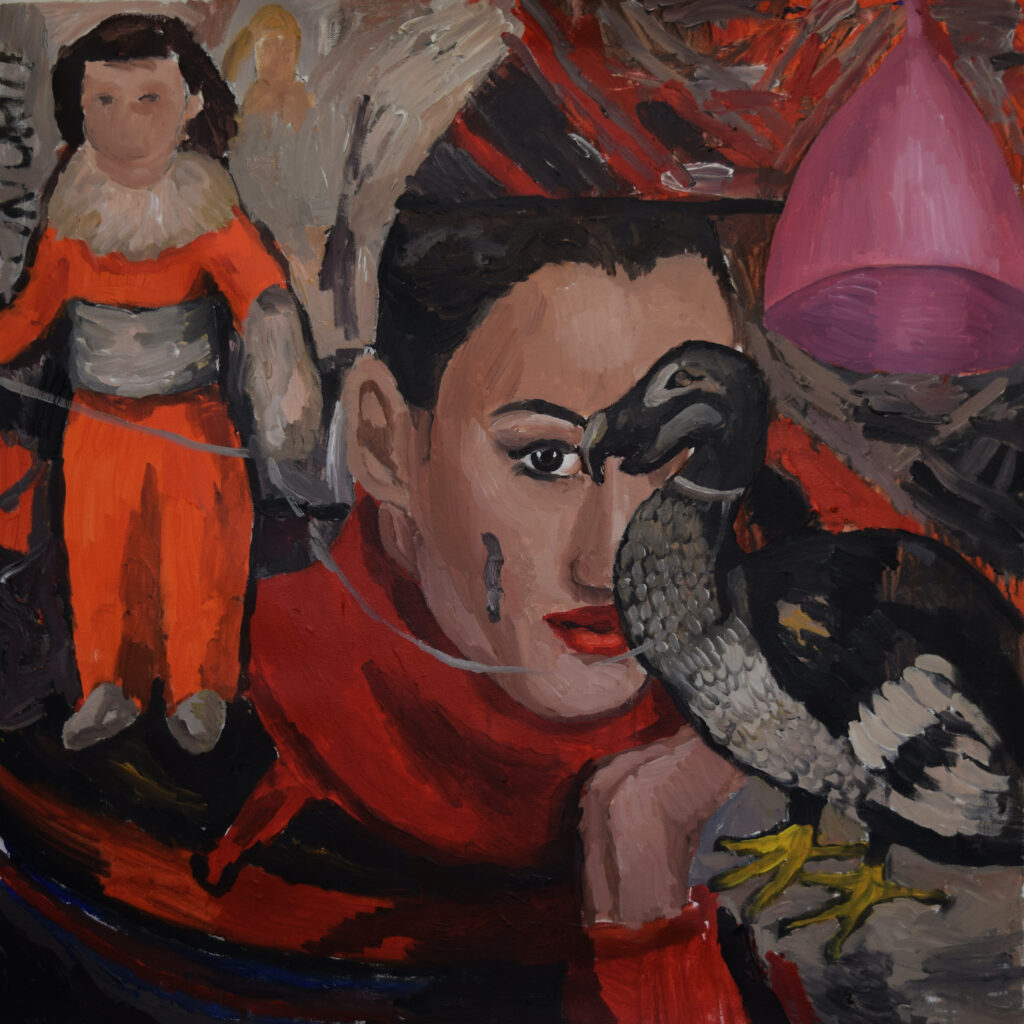 Saddam Jumaily is an Iraqi visual artist. He holds a MFA in visual arts from Basra University, and is a painter, sculptor, book artist, and researcher. He taught art at Basra University for 5 years and has published various books on Middle Eastern art. He now works and lives in Helsinki.
His works have been shown in many solo exhibitions in Iraq, UAE, Jordan, Finland, and Kuwait. Qatar auction.He participated in many co-exhibitions and art fairs in London, Dubai, Abu dhabi, Beirut and his works were shown at Christie's auction in 2016, New York. .He has also been awarded numerous grants and residencies like SKR, 2021 , SKR 2022 Finland.the Recipient of the Rescue Fund Scholarship, awarded by the Institute of International Education, Washington, D.C., USA for 2 years running 2015-16 and the Saaren kartano – Saari residence, Finland in 2019. His work was collected in a British museum.Qatar museum of islamic art selected for sharjah biennale 15,2023 .
His works combine a number of concepts that deal with immigration and tense social relations in the East, racism and sexism in the Middle East. The impact of religious authority on the demolition of societies. As well as the complex relationships between homesickness and the feeling of panic from it. In a sensory mixture that reflects the confusion of sensory and semantic complexity that occurs On the Middle Eastern immigrant due to wars and extremism.
CV
Saddam Jumaily
Born in Basra in 1974, lives & works in Helsinki, Finland
EDUCATION
2005: MFA (Painting), Basra University College of Fine Arts, Iraq
1999-2000: Bachelor in Visual Arts (Painting), Basra University College of Fine Arts, Iraq
PROFESSIONAL ACTIVITIES
2003-2008: Editor in Manara Magazine, Arts section, Iraq. Writer of several essays and studies in Iraqi and Arabian newspapers and magazines
2004- Present: Member of Iraqi Visual Artists
2006: Painter of Dubai Cultural Magazine, UAE
2006-2011: Lecturer at Fine Arts College – Basra University, Iraq
2011-Present: Member of Jordanian Visual Artists
2012:  Member of selection committee Fall Gallery of masters artists – Amman, Jordan
2022: Membership of Finnish Association of Painters & The Finnish Association of Sculptors
SOLO EXHIBITIONS
2022: "Room with out corner", Huuto gallery, Helsinki Finland
2022: "I'm possible", Porvoon Taidehalli, Finland
2020: "My mother's name", with Kholod Hawash, Galleria Ars Libera, Kuopio, Finland
2021: Todellisuuden röntgen/ Reality X-ray, Lapinlahti Käytävä Galleria, Helsinki, Finland
2018: "Just a name", shown in an abandoned house in Amman, Jordan
2018: "What happens always", Boushahri Art Gallery, Kuwait
2017: "Inkography", Dar Al-Anda Gallery, Amman, Jordan
2014: "Dialogue Degree Zero II", Art Sawa, Dubai, UAE
2013: "Dialogue Degree Zero", Art Sawa, Dubai, UAE
2013: "Daily Life", Orfali Gallery, Amman, Jordan
2011: "Household Tunes", Dar Al-Anda Gallery, Amman, Jordan
GROUP EXHIBITIONS
2023: Sharjah Biennale, 2023. Sharjah, United Arab Emirates
2022:  Menart Art Fair, Paris, France
2021: Middle East project, Theatre Academy, University of the Arts, Finland
2019:  Mass memory machine, Rankka gallery, Finland
2019: "Object of imagination", Jordan National Gallery of Fine Arts, Jordan
2019: Open studio, HIAP | Helsinki International Artist Programme, Finland
2018: Cultural Narratives, Artcap, Kuwait.
2018: Cultural Narratives, AlSerkal, Dubai.
2016: Christie's auction, New York, U.S.A.
2016: "Secret Cards" at Art Dubai (Art Fair) via Royal College of Art, Dubai, U.A.E.
2015: Beirut Art Fair, Beirut, Lebanon
2014: London Art Fair 14. London, United Kingdom
2013: Abu Dhabi Art Fair, Abu Dhabi, UAE
2013: Iraqi Art, Qatara Center, Al Ain, UAE
2012: Contemporary Iraqi Art, Sultan Bin Ali Owais Establishment, Dubai, UAE
AWARDS & RESIDENCIES
2019: Perpetuum Mobile (PM) Safe Haven Helsinki, Residency in Helsinki for 1+ year.
2019: Saaren Kartano – Saari residence, Finland
2015: Recipient of the Rescue Fund Scholarship. The Institute of International Education, Washington, USA
2008: Expert Young Artists' Award, Iraqi Visual Artists Society, Baghdad, Iraq
2008: The annual contest of Ishtar -Young Artists, Visual Art Iraqi Association– Baghdad, Iraq
2001: State Incentive Award, Ministry of Culture, Baghdad, Iraq
BOOKS
2018: "Open of the visual text. The Disclosure of the optical text", Alfaisal publishing, Riyadh
2016: "The Side of The Photo: A Question of Originality in Arab Contemporary Art", Arab Publishers Association, Amman, Jordan
2012: "The Effectiveness of the aesthetic discourse: Applications in Iraqi Visual Art", Al Adeeb House, Amman, Jordan
COLLECTIONS
2021: British Museum,contemporary art of the Middle East part, London
2017: Dalloul Art Foundation, Lebanon
2016: Kinda Foundation for Contemporary Arab Art, Riyadh
Taiteilijan teokset taidekaupassa
esillä näyttelyssä